January 01, 2020
JANUARY 2020 NEWSLETTER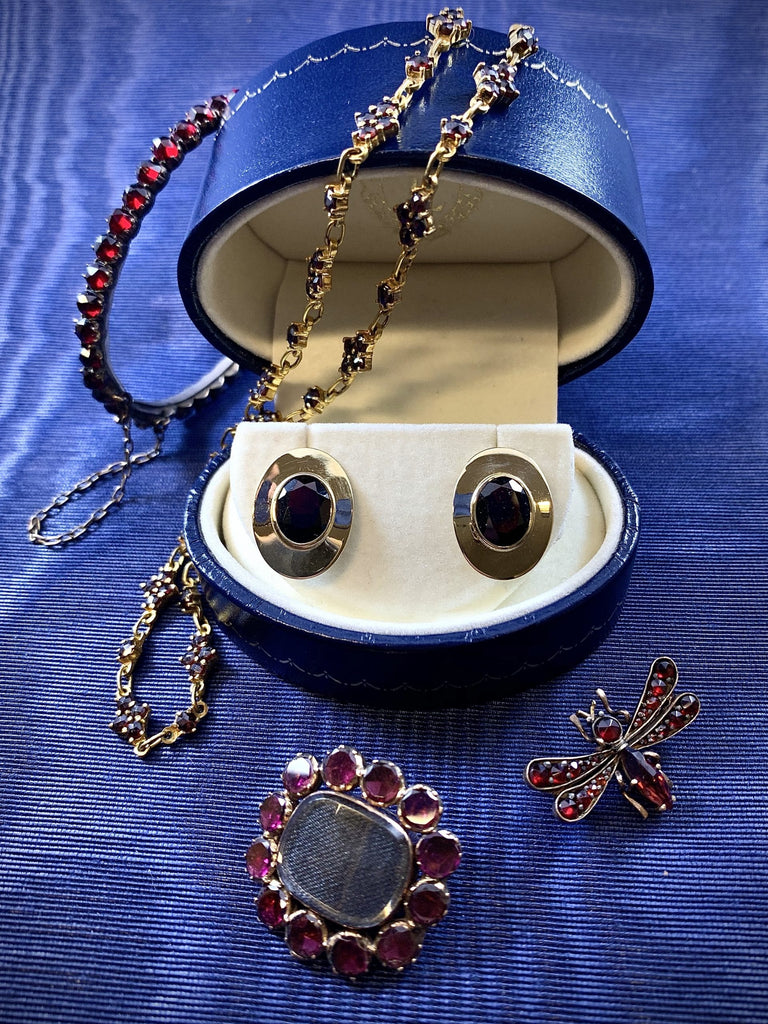 Above:  Left, Silver hinged Bohemian garnet bracelet approx 1800's; Center, 14k yellow gold vintage garnet earrings
For those of you fortunate enough to have a January birthday, then Garnet is your beautiful birthstone. Most of us are familiar with the deep red color of garnets, but there are also shades of green, blue, purple, black, colorless, orange, and yellow to choose from, so not to worry if red isn't your color. They are found all over the world, but Africa currently supplies the majority of garnets today.
The name "garnet" has its roots from the Latin "granatus," meaning "pomegranate," referring to their vibrant red color. Garnets are actually a group of minerals. The significant varieties being pyrope, almandine, spessartine, grossular (including hessonite and tsavorite), uvarovite and andradite. Over the years, garnets have been used in jewelry as well as an abrasive in sanding and polishing. 
Since the Bronze Age, garnets have dazzled us with their beauty in jewelry design throughout the world. It is one of the oldest known gemstones and has been found in ancient Egyptian tombs decorating the Pharaohs. The ancient Greeks and Romans also valued this lovely gem and used garnets as signet rings to seal documents. Hunza warriors from Kashmir would shoot garnet pellets fastened to their arrows with the belief that the garnets would inflict bloody wounds. During the Middle Ages, garnets were considered a symbol of Christ's blood.
Above: 10k yellow gold garnet ring and 14k yellow gold garnet necklace
The symbolism of garnets includes associations with the heart and blood, as well as protection from harm. Garnets were often worn into battle, and are also a symbol of love and friendship. They stood for the safe return of a loved one and were often exchanged as tokens between friends that they would meet again.
If you choose to research garnets, then I suggest looking up the newly discovered Blue Umbalite garnet, which was discovered in Tanzania's Umba Valley and first reported in 2017. The Umba Valley is a wonderful source of unusual colored garnets. We are also fortunate to have garnets here in Washington State at Vesper Peak in the Mt. Baker-Snoqualmie National Forest!
Above: Gold-filled Bohemian garnet necklace from Stuttgart, 9kt Georgian Mourning brooch from 1819 engraved, 9kt Bohemian garnet pin
Since garnets are relatively hard (Mohs scale 6.5-7.5), they are also quite durable for everyday wear in jewelry. As long as they are not subjected to hard blows or rough wear, they can be worn in rings on a regular basis. You can clean your garnet jewelry briefly in an ultrasonic cleaner, making sure to rinse and dry with a cloth.
All pieces above are currently for sale in the shop! Scroll down to the bottom of this newsletter to book an appointment for more details.
NEED MORE INSPIRATION? CHECK OUT MY PINTEREST BOARD WITH SOME LOVELY GARNET COLOR ALTERNATIVES BY CLICKING THE IMAGE BELOW.